Ripplinq technology is truly transforming museums by engaging visitors with a variety of informative content from art descriptions to informative videos, that is served at the right time, based on the visitor's exact location in the museum. The technology is especially of value to museums as it reduces the efforts of the museum's in-house art experts as well and reduces the cost of maintaining and updating audio guides as well.
Visitors to the museum are able to view a wealth of information on the history, description of the exhibit to detailed floor maps to museum event details directly on their smartphones, at their own pace.
Ripplinq throughout the structure to push proximate content to visitors, you're free to wander the spiral ramps of the museum at your leisure, be it from the bottom toward the top or from the top toward the bottom, as intended by the architect himself. Armed with your phone and headphones, content is pushed to you depending on what artwork you are closest to. Want to know who painted it, what it's called, or the story behind it? Ripplinq includes everything from text, to images, to audio and video guides about both the museum structure itself and the artwork housed within. This enriching and educational participation is exactly what we have in mind when we think of magical experiences.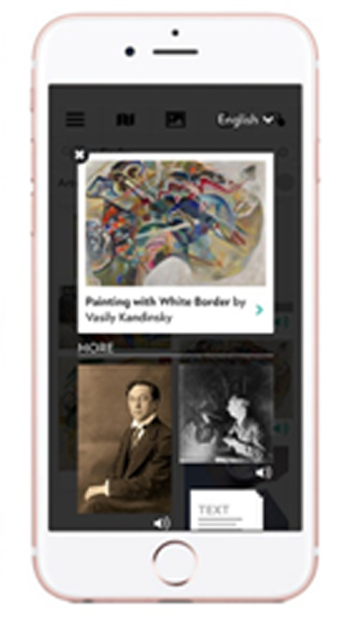 Educational excursions

The technology provides all the tools needed for world-class learning experiences both for students and art lovers. School initiated field trips can be enhanced through rich interaction via mobilw devices. Students can follow directional cues provided on screen, take notes or sketch with whiteboard features, interact and collaborate with their fellow students through notes, and chat.

Self-guided tours

Ripplinq allow museums to offer their visitors streamlined self-guided tours. By placing ripplinq around the museum, approaching visitors can receive detailed information directly on their mobile home screens. Visitors can proceed at their own pace, spending more time near exhibits most appealing to them, thus eliminating the need to follow strict walking guidelines.  A location-based ripplinq providing a rich experience much like a personal tour guide in the palm of their hands. This not only cuts down on museum resources, but also provides a vibrant medium of interaction for users. Exhibits can be complemented with photos, information about the creator, descriptions, additional videos, and audio streamed where it is most relevant to the visitor.

Analytics

Ripplinq can be used for gathering data to gain insights on visitor behaviour and use it to improve exhibit locations and museum layouts to enhance the overall visitor experience. They can also be used to measure dwell times, measuring how much time visitors spend at different locations of the museum, or which exhibits are most popular. You can understand if an exhibit is popular by itself or if it is because of its placement at a particular location. A visitors' entire visit can be tracked, providing invaluable data about how long they stayed, which sections they visited, and countless other behavior metrics regarding their visit such as time spent at each section, interests, artifact purchase history etc.

Contextual information

Ripplinq can be used to trigger proximity-based, hyper-targeted updates to visitors as they move around the museum. For instance, a museum's app can alert visitors to an upcoming lecture as they pass by the auditorium. Messages triggered can be to divulge more details about an exhibit a visitor is looking at, or to inform visitors about other facilities, such as cafeteria, porchways or the history of the museum itself.