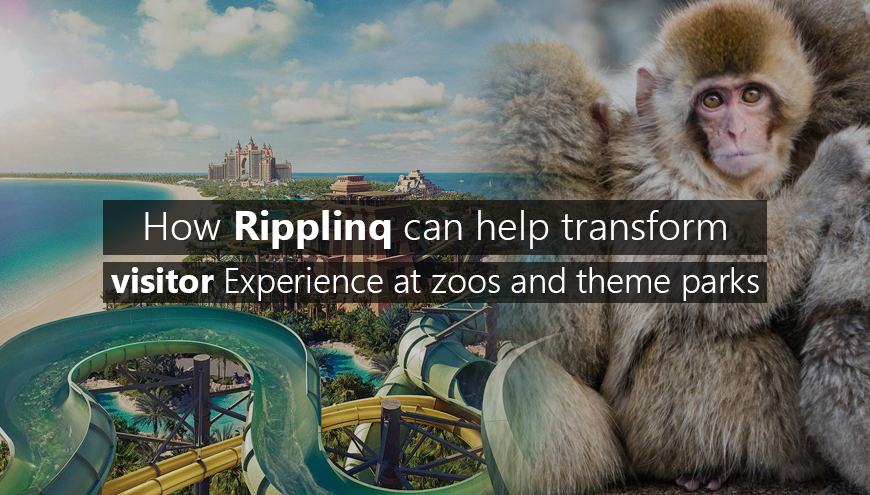 Zoos and Theme Parks
Like in the case of museums, ripplinq can also be very useful to both visitors and staff at zoos aquariums and theme parks. Ripplinq at zoos and theme parks can deliver diverse functions like providing informative guided tours, sending useful program/show reminders, enabling mobile ticketing and providing a platform to cross-sell products and services.
Enhance multimedia experience: Most theme parks and zoos have voice guides to offer relevant content to visitors. However, most of these devices are quite expensive to maintain and often require staff at theme parks to manually check-in/checkout the devices, thus making it all the more difficult to frequently update content. This is where ripplinq come into the picture.
Integrating ripplinq into your mobile strategy, lets you offer your visitors with an enhanced multimedia experience that allows them to easily access details about a specific exhibit they are currently looking at, without having to fight through crowds. You could also direct them to a video on the origins of the animal and how it lives in the wild. In this case, Ripplinq are particularly interesting as it allows them to trigger contextual content based on the location of the device.
Improved parking facilities During weekends and vacations, finding a parking space in a theme park, zoo or aquarium can be quite a task. Visitors usually drive in only to end up circling round and round in vain looking for a spot, as most of these theme parks are not equipped with a method to let visitors know if the parking lot is full. But with Ripplinq, as soon as a visitor drives in the entrance, you can trigger an alert directing him to the nearest available parking space. And on his way back, you could also help him locate his car with ease. Adding on to that, it also empowers security staff with the ability to remotely identify vehicle owners, in case of an emergency. This feature of Ripplinq is now extensively used at malls to manage parking space.
Easy purchase and upgrades Most visitors find it very taxing to upgrade their stay, or pay for a meal at theme parks, as it often requires them to wait in line for long. Now with Ripplinq, you can allow your visitors to avail spur-of-the-moment upgrades and skip waiting lines at rides or check the lunch menu and make dining reservations accordingly. You could also allow your visitors to pre-order meals on the go for easy pick up at select locations. Adding on to that, ripplinq can also help your visitors avoid waiting in line to collect a photo of them on that crazy ride. All you need to do, connect ripplinq network and activate a series of actions that allow your visitors to choose a picture by entering the corresponding code and pay for it to have a digital copy sent to them on their smartphone.
Organize digital scavenger hunts Just as in the case of events, when it comes to theme parks or zoos, gamification plays a very crucial role in presenting relevant incentives in a more engaging and fun manner. For example, you could organize scavenger hunts to encourage your visitors to explore the less popular rides at your park or new exhibits at your zoo by offering them special rewards for doing so. For example, you could make your visitors collect badges as they visit various exhibits at the park and thus earn valuable in-park rewards. You could also reward them for certain valued actions such as submitting a feedback form with free coupons or merchandise.
Support for the differently-abled Visitors with special needs can be offered better services through Ripplinq. Ripplinq help you create a virtual map of the venue, such that it is visible and hearable to those who are challenged.
Locate family members with ease With ripplinq , your visitors will no longer have a tough time managing their kids.
Gain insights into visitor traffic and manage your staff better You can also use ripplinq to collect massive amounts of data such as the busiest hours throughout the day or week, customer dwell time at ripplinq and number of ripplinq hits within a specified time and accordingly manage your staff activities better. For example, in the case of theme parks, you could use these real-time analytics information it to determine when more staff should be added to help out visitors at various rides. You could also use data about customer preferences to craft contextual messages alerting them about any new addition to your theme park or zoo
The Los Angeles Zoo has a beacon-based solution that allows guests to take guided tours of the recently opened Rainforest of the Americas exhibit at the zoo. SeaWorld is another park that has its own beacon-enabled app called 'Discovery Guide' app that helps in sending visitors promotional offers, information about animals, conservation status and basic park information