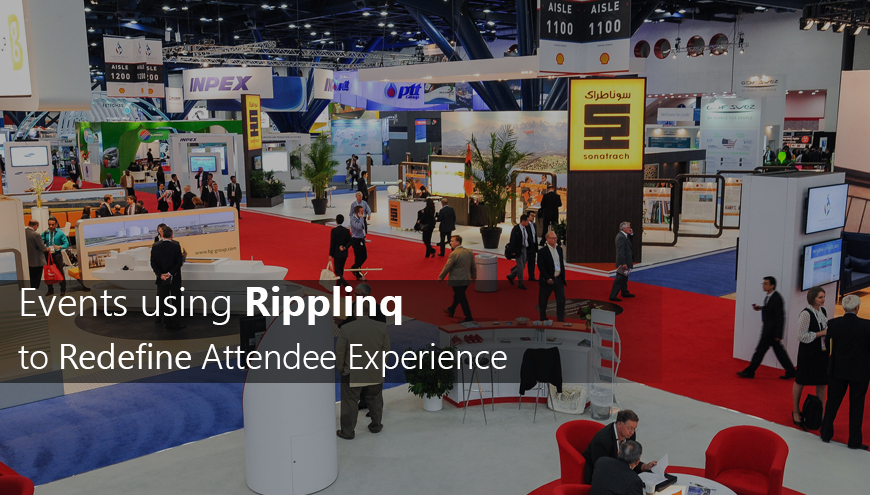 Events
Ripplinq technology in sporting events (like Wimbledon, Pikes Peak International Hill Climb, NBA games etc) or technology events (like CES, Mobile World Congress etc) or even festivals. Ripplinq provide numerous opportunities to add value to events while gathering important attendee data.
Many events today also gamify the event experience by organizing scavenger/treasure hunts using Ripplinq. Ripplinq-based scavenger hunts is a great step towards increasing attendee engagement. Through such initiatives, guests are able to explore the events better while collecting game points in order to win the final prize/reward.
For years, event organizers have pursued new ways to enhance a visitor's experience by delivering improved customer service and offering digital content through event-specific mobile apps. These apps either rely on Near Field Communication (NFC) which is detectable only within a range of a few inches or GPS which is too broad and cannot accurately pinpoint a booth in a trade show venue. Not to mention that unlike Ripplinq, built-in NFC is limited to very few mobile devices.
Gamification

Today, gamification plays a crucial role in creating positive brand awareness while offering enhanced visitor engagement. Keeping attendees engaged during sessions at an event by letting them ask questions or delivering personalized deals and messages based on a visitor's proximity to a trade show booth are all efficient event management tools. You can encourage your attendees to explore less popular areas of your trade show by offering them special rewards for doing so. You could also reward them for certain valued actions such as completing a feedback questionnaire with free coupons or merchandise.

Frictionless Registration

One of the things that most attendees hate the most at large-scale events is waiting in long lines. Many event organizers are now experimenting with beacons to speed up the check-in process. To get things moving faster, you can even use ripplinq to potentially check-in your attendees immediately as they arrive or get the badges automatically printed at a self-service terminal nearby.

Improved Networking

Networking is one of the primary reasons why people attend events. The event ripplinq can use to take the participation level of your attendees to a whole new level. Most ripplinq use visitor self-tagging or LinkedIn integration to match profiles based on user's interests to send them notifications when they are in close proximity to a match. You can even extend your service to offer guided tour of the event  arena based on the interests of the user. For example, if a particular user is interested in mobile commerce, you can enable ripplinq to guide them to all relevant stalls at the trade show and also provide additional information on exhibitor and the services offered by them thus helping them connect and exchange contact details effortlessly.

Sponsorships

Event organizers can also leverage ripplinq for additional revenue. For example, when a user passes by a certain zone at the trade show venue, they receive a notification prompting them to come and check out the closest booth. This can be a premium service offered to sponsors.

Content Delivery

Most attendees at an event flock behind presenters for a copy of the presentation slides or end up waiting for weeks for the content to arrive in their inbox. You can avoid this long taxing wait by using ripplinq to recognize attendees at the session and automatically deliver slides, ebooks etc during or immediately after the session.

Auto Check-in

Event organizers can easily gather information on the number of people attending an event or a trade show and view their profiles in real-time by setting up ripplinq to simulate check-ins at the entrance of the conference venue. This requires no action from the user's side. If the user has ripplinq enabled on his/her mobile device, it will automatically check-in as soon as the user walks into the venue. Thus, by enabling brands to breathe life into the traditional event experience, beacons are believed to be an integral part of any company's digital strategy in the near future.